What is Google Cardboard? To be honest, that may be one of the most astounding and great experiments of a cyber company which has ever been. Google Cardboard is a grandfather of all the virtual reality devices. That is a technology, which became a very beginning version of all of those VR glasses, which are now widely used by various people. It was created by Google in 2014, and in the very first period of its existence it was nothing but an experiment. However, due to the growing popularity of all the VR devices and games, it became a popular technology, which is not only cheaper but much easier to use, than several pretty popular but expensive glasses, which are now presented on a market. Looking for best Google Cardboard apps is a pretty complicated challenge for any user, so, today in that article you are going to see the list of best Google Cardboard apps, which you can get for free or after paying for them.

BEST GOOGLE CARDBOARD APPS FOR FREE

For sure, any user is willing to save his or her money, that is why, free applications are the most popular ones. That is why our list of today's applications is going to be opened with 9 of the most popular the best VR apps for Google Cardboard which you can get for free.

1The North Face Climb

That application was created by JauntVR and is aimed on those users, who are actually the fans of adrenalin and really want to see all of those places all over the world with a breathtaking mountain views. Thanks to the usage of that application you become able to follow the north face climbers from the first-person view in such a way, that you are even able to feel the spirit of adventures and the frosting wind of Utah and Yosemite peaks. To my mind, that extension could be called one of the best android vr apps. By the way, it is matchable with Android, iOS, GearVR and Steam OSs, so for the majority of the users it will not be a problem at all to download the North Face Climb to their devices.



2Final Kick VR

It is quite obvious, that lots of people all over the world really like football. However, not all of them are really good players. But in case of the usage of that application for your VR Google device you may be able to play football almost like in the real life. Maybe, that Cardboard VR game has not the best design and graphics, but the whole concept is pretty nice. So, in case if you are willing to play with the world top teams, this Final Kick is for you. Besides, in order to play, you have to move energetically with your whole body, so, it may also become a pretty good physical training. This game is created for iOS and Android devices, thus, you can get it pretty easily.

3Turning Forest

I believe, that the majority of people have ever wanted to be in a fairytale. With that very application it is now possible. Thanks for the cooperation with BBC, the developers were able to create one of the best free vr apps, which can really surprise you. In a game you see the story of two kids, who are walking along the forest, but suddenly, they meet a strange creature, and from that moment all the adventures begin. In order to finish the game you have to pass various missions, while in the same way, follow the storytelling process within the game. Turning Forest is full of fantastic natural sounds and awesome graphics, what makes it so different from the others, in a positive way, of course. However, the main problem here is that this app is vr app is available only for the Android users.

4Battle Z

While discussing the top google cardboard apps we can not forget about a pretty nice thing, called Battle Z. In case if you download this game for your iOS or Android device you may get a great opportunity to take part in a real combat with zombies within a world of Virtual Reality. In case if you are a great fan of adrenalin, that is definitely what you need. Furthermore, here you can enjoy not only an energetic gameplay but also an opportunity to see a really nice graphics and soundtrack. Furthermore, in the game you can create your own character, upgrade him and add various special features to his appearance.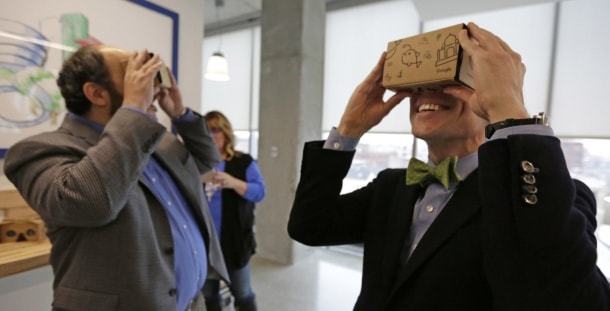 5New York Times VR

If you want to have all the up to date news, one of those applications, which you definitely need could be New York Times VR. It is not a huge library of various Google Cardboard videos but also a great news resource, which is going to upload different VR stories every month. So, you can become not only a first-person participant in a governmental conference but also act as a part of the military corps in the desert of Syria during the battle with ISIL. Thus, if you are in politics and International Relations, do not miss such an application.

6Star Wars VR

Are you looking for an authentic application for your VR glasses? If yes, Star Wars VR app is definitely what you need. Awesome graphics and interesting gameplay is only the top on the iceberg.In case if you download that 100% applications you will be able to feel yourself as a part of an incredible world created by the team of George Lucas and face all of the dangers of each of the terrible creatures, races and powers of the galaxy, located far far away. That app is available for all of those users whose devices operate upon Android or iOS systems, so it may not be a problem for them to get such a great game.

7Wizard Academy VR

Do you think, that magic world is something great? If yes, Wizard Academy is the best application for the users like you. If you have such a game on your device, you may be able to find yourself in a fantastic world of magic, dragons and a tremendous legacy of King Arthur and Merlin the magician. While passing different quests and earning points you are steadily moving to the end of the game. Interesting story and good graphic features are not only the most important points of that app. It is also a great educational platform for the users who really like to find something new for themselves. Thus if you have an Android or iOS smartphone, do not hesitate to get such a great game.

8in360 Tube

Maybe that one is the most simple Android and iOS cardboard apps. It is so because of the fact, that everything you need is the YouTube application and your Cardboard glasses. The main aim of that app is to allow you to see different videos on YouTube in 360 degrees regime, what is really cool. So, if you have always wanted to see the parachute jump in a real life or observe the depth of the oceans as a real diver, in360 could become great choice for you.

9Google Art and Culture

Art is one of the most important parts of our life. However, not all of us are able to see all of the museums in the world and take a look at the most popular and widely known fantastic pieces of art. However, you have Google and your Cardboard. With the usage of such an app and Google Cardboard camera you may be able to see a huge number of museums, galleries and art institutions form more than 70 countries. Google Art and Culture is a great decision not only for the common users and the lovers of art but also for the students, artists and historians, whose very activity is all the time linked with different historical artefacts and remains of the past.



BEST PAID GOOGLE CARDBOARD APPS

For sure, free applications and games are pretty popular among the users and developers.However, it does not mean, that you will not buy one. Because of it, the market of the paid applications is now terrifically great. And that is not a surprise at all, that there is no problem to find a really nice VR apps for Google Cardboard. So, in that part of an article we will show you 8 of the most popular and great paid VR applications for your devices.

1Trinus VR

That application s not a game at all but a tool, which may allow you to make any of the existing game suitable for the usage upon the VR devices. Trinus VR may be actually one of the best vr apps without any doubt. Furthermore, it is really even more hard to over evaluate such a great potential of that technology. WHile being matchable with iOS, Android and PCVR, that app will become a great toy not only for game geeks but also for those people who are willing to try something new with their devices and fantasy.

2Proton Pulse

While being a pretty simple game, where you just have to follow various objects in the box and put their backs to the place of the origin, Proton Pulse is a magnificent example of a great potential of graphics, but not the entire gameplay. That game may be interesting not due to the fact, that it has some incredible missions, stories or characters. No, it is just an interesting thing, that is able to occupy your brain for several days, due to its beauty and an opportunity to break the person brick.

3Temple Raider

I believe, that the majority of the readers have ever watched the movies about a fearless archaeologist Indiana Jones. And that is not strange at all, that the seekers of adventures were dreaming about an opportunity to follow his steps. Now, with the usage of your Google Cardboard and a Temple Raider application, you are finally able to do it. In that game you have to not only pass various mission, but also look for the archeological treasures and escape from various monsters, which are trying to chase you. And remember about the traps, implemented by the aboriginals.



4I See Ooo VR

Most of you, I think, have ever watched the Adventures Time cartoon and had a dream of appearing in the same world as in the movie. Now, you can do it with the help of a simple I See Ooo VR application, which will not only transfer you to the world of Finn and Jack, but also will give you an opportunity to [ass missions, achieve levels and upgrade your characters during the whole gameplay.

5Caaaaardboard

That is a pretty simple but great simulator of the reality for those, who are the fans of adrenalin. If you have always wanted to jump from a skyscraper to another one, you can do it now with the help of a small smartphone and a pretty simple application, which has a great graphics and sound. So, do not hesitate and get that great app with a strange screaming name of Caaaaardboard.

6Bombsquad VR

That is a new creation of a great designer Eric Froehling from San-Francisco. Strange but in the same time really lovely game can quickly become one of your favorite just in several hours. Of course, in case of laying with the usage of VR devices from Google the feeling are even more fascinating. The main aim of a Bombsquad VR is to meet your online opponents in the battlefield and destroy them with the usage of various types of bombs. By the way, you also get an opportunity to change and create your own characters in a game. One of the main problem is that it is not one of those google cardboard apps for iphone, so you can run it only with the usage of Android or Gear VR.



7Relax VR

Here it is needless to say a lot. Just turn on your VR device and open Relax VR app. WIth the help of these two elements you will be able to enjoy amazing and magnificent views of nature with the sounds of calm classical music. Sometimes, we all need something like that after a hard working week.

8Minos Starfighter

Have you ever wanted to feel yourself like Luke Skywalker in the cockpit of the X-Wing starfighter? Now you can do it just for several dollars and the usage of that nice application. In that game you are acting from the first-person in a starfighter somewhere in the middle of space, fighting with the terrible and disgusting aliens, trying to conquer not only your planet but also other civilisations. So, with Minos Starfighter you become able to save not only the planet Earth but also the whole Galaxy.

CONCLUSION

It is possible to talk for hours about the variety of all of the games available for the Google VR devices. However, the borders of the article are pretty limited. So, I hope that it was helpful in an uneasy process of finding something special for you in that borderless and bottomless ocean of ideas and projects, which are able not only to occupy your mind but also become the worldwide trends.