With the development of modern technology, fintech and mobile banking apps have become a far superior choice to traditional financial solutions. First of all, they created the fastest way for you to perform any operation you might need. Secondly, most of them are equipped with great tools for you to better control your money flow. Furthermore, they are becoming more and more secure every day. Finally, nowadays we are spending more time and completing more and more tasks on our smartphones, which is why a mobile banking app is a welcome and even a required solution for our financial control. This is clear from the mobile payment growth statistics and estimation.

10 Best Fintech And Mobile Banking Apps
1 Mint – the best personal finance manager

Mint is probably the most popular and successful fintech app. It can collect all the relevant information about your cards, accounts, and transactions for you to easily manage all your money in one place. Mint also reminds you about the bills you need to pay and offers advice based on your spending patterns.


2 Revolut – popular mobile banking app
Revolut wasn't the first in its class, but it's the app that offers the fullest mobile banking experience. Not only does it let you set up a banking account in a matter of minutes, it also offers the option of immediate currency exchange, delivery of free debit cards and money transfer without any charges!


3 Lemonade – easy and fast insurance
This app is an example from the niche that is less explored by financial app developers, but getting traction really fast – insurance. Lemonade employs AI to speed up the process of getting home insurance. It also holds the record for the fastest realized insurance claim – mere three seconds!


4 Starling Bank – truly mobile banking
Starling Bank is another popular mobile banking app from the UK. This app has no physical bank branch, but it offers the same amount of features any traditional bank would. Plus, it has voice features, so you can use it with Alexa, Siri, Google Home, etc.


5 Trigger - your stock alarm clock
Trigger is an app that informs people about events connected to the stock movement. It is not directly connected to any money operations, but it is still an important fintech tool for people that want to earn on the stock market. The app has gained popularity after the introduction of the Trump tweets notification feature, which, as we all know, affect the market pretty hard.


6 Coinbase – one of the best fintech apps for blockchain enthusiasts
Of course, with the rise of the popularity of blockchain, this list wouldn't be full without at least one cryptocurrency-oriented app. Coinbase is one of the most massive, popular, informative and easy-to-use apps from this segment. If you know nothing about bitcoin – this app is just for you!


7BudgetBakers – cooperative finance management
This app is mostly targeted towards couples, but it really can be used for any group of people with a shared budget. It is a finance management app with a great minimalistic interface that syncs up the activity information of the group of users for them to plan their spending accordingly. The amount of info it offers is stunning, and it is really fast and efficient.


8Acorns – the easiest way to save
Acorns is the best solution for people who want to save some money, but don't really want to waste their time. The way it works is really simple – it takes a small amount of money from your card every time you perform an operation, and puts it on a couple of exchange-traded funds (which you choose based on their risk rate).


9Lawnmower – invest in bitcoin with a minimal risk for your wallet
This app is somewhat similar to the previous one, but it invests your money into a bit more volatile market – bitcoin. Although the risks for such an investment are higher, the gains are generally higher too.


10 Robinhood – easy and cheap way to invest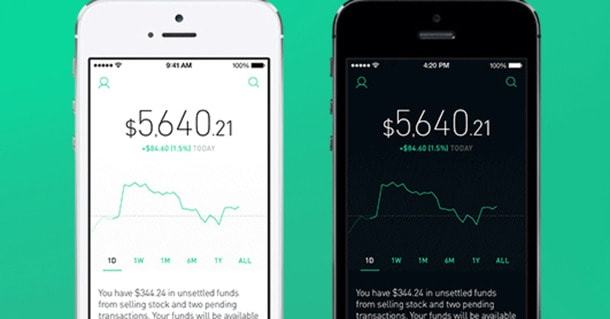 Robinhood is the best app for you if you want to start making your money work, but you don't know a lot about investment. The most notable feature that has earned this app a lot of users is that it offers free transactions.


5 Tips For Fintech Apps And Mobile Banking Development
Focus on security - money is a very delicate subject, you won't be able to persuade people to use your app without providing proper protection measures. If you want your fintech apps and mobile banking app development to pay off, you definitely need to take care of security, both transfer- and storage-wise.
Determine the specifics of your branch of industry - it might be obvious, but different types of fintech apps require different approaches. Mobile banking application development experience differs a lot from the experience you get when you develop a fintech app of any other type.
Make the app easily scalable - no matter how small the project is in the beginning, be prepared to make it accessible to a wider audience. With this industry, you never know when banking mobile app development for startups can lead to the biggest hit app of the year.
Be careful with APIs - most of the fintech apps have lots of different features that can be easily implemented using different APIs. However, their incorrect or careless use can lead to a breach of security. Don't provide any information and create API calls with specific IDs.
Get rid of as many physical world features as possible - this mostly concerns people working on developing a banking app. Make your user forget about the existence of banks, lines and credit cards. Let them access any features they might need with a touch of a finger.
Final Thoughts
The financial field has been in need of innovation for a long time. Now that it's finally evolving, it is the best time to chime in and make something you feel might be helpful to fintech app users. One successful project can lead to the improvement of the whole industry, so start developing right now!